Stay informed
Learning Centre
Expand your cannabis knowledge
We are constantly updating our learning center so please stayed tune for more details!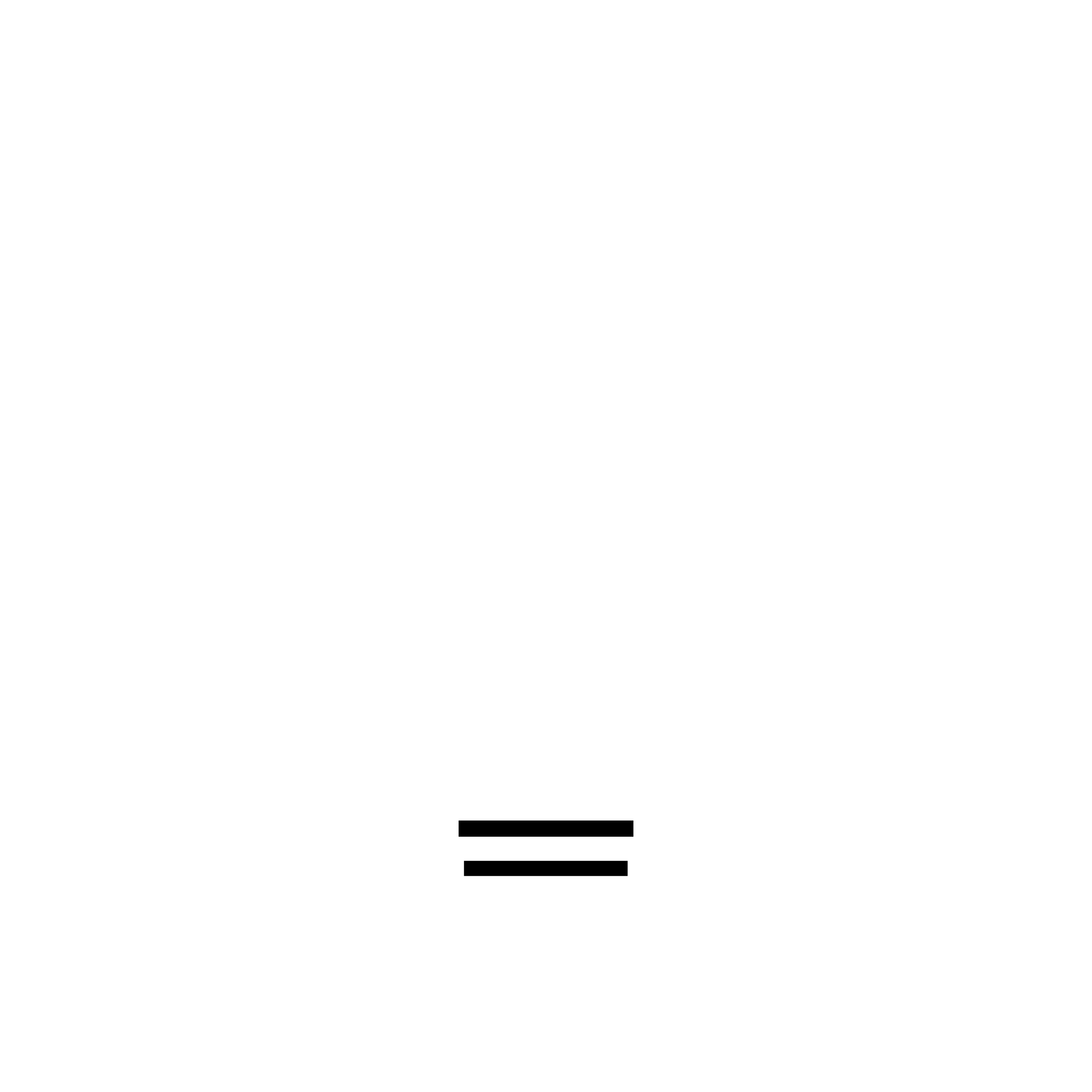 Seed Storage
Keep your seeds safe and viable by following these easy steps.
Make sure the seeds are away from any light, moisture and high temperatures.
It is best to keep them in an air tight opaque container in a regulated temperature area like your fridge or cellar.
Opening our packaging
Our packaging can be tough, here's a few useful tips to help get started before you even get started!
Cut the duty stamp to make it easier to open
Place your thumb on one side and your pointer and index finger on the other, while pressing together press the front in and then up to open.
If your still having difficulties try pushing together and use a hard surface to push the packaging open.
Seed Germination
Germination is the first and most important step to starting your grow! please follow our suggested method below for the best results.
1. Use water PH'D to 6 to dampen a piece of paper towel (it should be wet but not dripping).
2. Fold the piece of paper towel flat in your seed case (recommended). Place seeds on the paper towel at least 2 inches apart. Cover gently with remaining paper towel and close the seed case.
3. Place in a warm, dark area (25-28C) like the top shelf of a cupboard or on-top of the fridge. Keep away from strong lights & the cold.
4. Check your seeds every 12 to 24 hours.
5. Germination can take 2-3 days or even up to a week for some seeds (natural variability). You will see the seed split and a taproot appear.
6. Once the taproot is showing noticeably, it is time to plant the sprouted seeds!
We do not suggest using the following methods as they may result in a poor germination rate.
Do Not plant your ungerminated seeds directly into your medium as a number of issues can arise preventing germination.
Do Not soak your seeds, if done for too long you can drown the seeds preventing germination.
What does gender of the plant mean? Feminized Seeds?
Cannabis has male, female & hermaphrodite plants. Male plants will produce pollen and no smokable material, while female plants will produce the flower buds we all love to enjoy! Hermaphrodites are genetic or female plants that experienced extreme stress and will show signs of it showing character of both sexes.
34 Street Seed's are 99% feminized but there is always a extremely small risk of you getting a male plant. You can tell a male and female plant apart by looking at the nodes at the 4- 6 week point. Male plants start to develop seed sacs while female plants develop hairy stigmas (see pictures below) If you should ever find a male you should dispose of the plant early to make sure it does not pollinate the rest of your plants causing them to grow seeds and lower their potency and yield.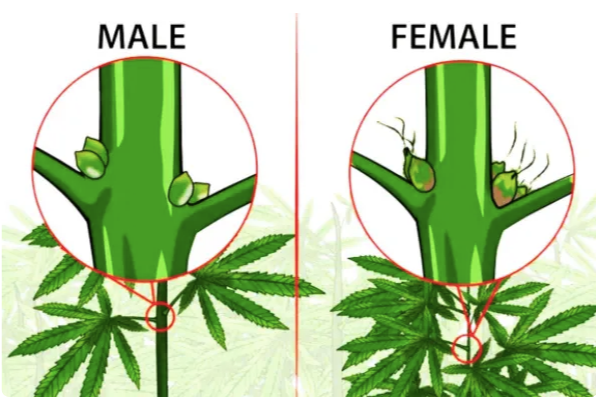 How much light does my plant need?
When first seedlings try to keep the lights close to the plant to ensure they get started. As the plant grows, the light requirements change. At first, follow a minimum 18 hours light/6 hours dark schedule- she needs light to grow from a seedling to a full plant. This is vegetative stage. Once she is ready to flower, reduce the light to about 12 hours light/12 hours dark. This will send a signal to the plant to start flowering. Note that this is a general guideline and depending on the type of grow method & plant's needs, you may need to tweak it.
Can I use just any soil? Is miracle -Gro OK?
Do not use Miracle-Gro or any type of  'extended' release nutrient soils. Your plant's nutrient needs change as it grows & as it moves from vegetative to flowering, especially in the case of nitrogen. These soils often lead to nutrient problems. A standard potting soil with amendments is fine or use a soil specifically for cannabis. If you are using garden soil, sterilize it first. An easy way to do this is to pour boiling water through the soil, make sure the water can run properly through all of it. Other good options for growing cannabis is Living Soil or Coco coir.
What's the difference between Photoperiod and Auto-flower?
Traditional Cannabis plants are your photoperiod type plants they typically have an 8 week vegetative time and 8-9 week flower time depending on genetic. the change that makes the plant change from the vegetative stage to flower stage is done by the shorter days essentially the plants getting less light, this usually happens in late July / early August depending on your location. If growing indoors you can spark this change when you want by changing the light schedule from18 hours on everyday to only 12 hours on. when this switch happens expect the plant to start stretching and getting a lot taller!
Auto-flower plants don't require a change in the lighting schedule to switch from vegetative stage to flower stage and will do so automatically. Auto-flower plants also have a much shorter growing time being completely finished between 70 - 90 days after first planting. Be aware that Auto-flower plants are typically smaller only reaching 3 to 4 feet high so expect smaller yields than normal Photoperiod plants. Also Auto-flower plants can be sensitive and if stressed can jump into flower early making for an even smaller plant and yield. To try and avoid this from happening we suggest the following.
1. Start your plant in the pot you want it to finish in and never transplant.
2. Don't top or any high stress training, low stress training is okay but try to keep it at the minimum.
3. keep a consistent light schedule through it's whole life (we suggest 18 hours on, 6 hours off)
How is THC rated or listed?
THC is listed in mg/g. This will be the percentage of THC found per gram of cannabis biomass. If the number is higher, the concentration and effects will be higher.
To convert mg/g to percentage, divide mg by 10. For example: 200mg/1g is 20%.
How is CBD rated or listed?
CBD is listed in mg/g. This is the percentage of CBD found per gram of cannabis biomass. To convert mg/g to percentage, divide mg by 10. For example: 200mg/1g is 20%.
What are Terpenes
Terpenes are organic hydrocarbons found in the essential oils of a plant, they make up the smell and flavours! Terpenes can be found in many items such as apples, black pepper and pine needles. For example, limonene is found in lemons as well as cannabis. having a rich in terpene plant can produce a flavourful taste.
What are different genetics of cannabis?
Genetics can vary widely, even within the same cultivar. Height, THC, CBD, cannabinoids, health, climate preference, growth cycles, etc. Sativa leaning cultivars can be tall, thin & take a longer time to mature while Indica leaning cultivars can be shorter, wider & grow more quickly, Ruderalis is a third type (less common as it doesn't produce any psychoactive effects but it's quick growth cycle & auto flower capability make it a popular cross) that grows quickly but is very small. Note that these are just a general guideline- nearly if not all modern cultivars are hybrids, so they are highly variable. Do your research to determine the best cultivar for you!
I want to grow a few plants in my home for recreational use, what should I be looking for?
When choosing a cultivar, pay close attention to yield, growth height compared to your grow space, level of scent & purpose.
If you ever have questions we love to chat! contact us at hello@thirtyfourstreet.com 
I have a small space! can I still grow?
Don't worry even tight spaces can work for growing! Your first step is to be sure to choose a cultivar with a low stretch rate this will help when the plant goes into flower. When the plant has started to grow and has 3 nodes we suggest topping the plant, topping is a process of cutting the top of the plant at the node to encourage the plant to grow out more instead of higher. when you start to see branches start to stem off the plant you can start some LST (low stress training) one popular method is to use tie down's by wiring your plants branches lower to the sides of your growing pot this as well will encourage the plant to grow out more instead of up.
Discover our fan favourites